We are so excited to share the news with you that Rocky has been released into the wilds of Borneo!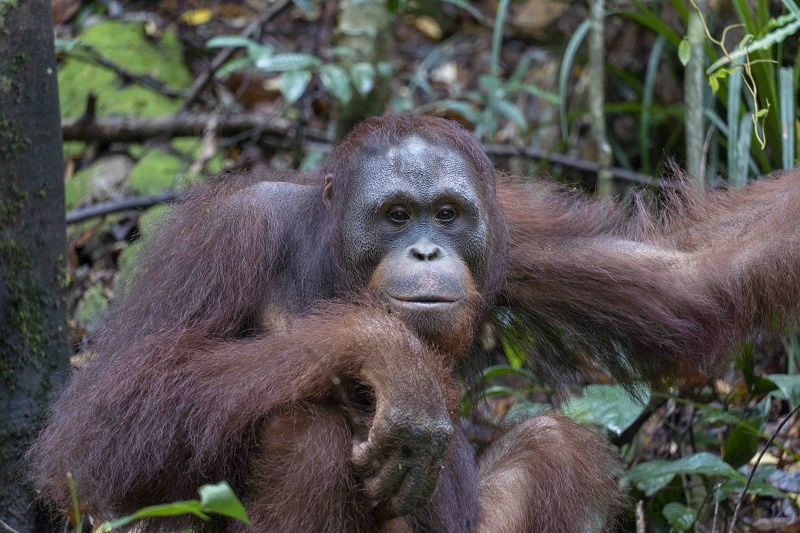 Handsome Rocky in his new jungle home
Rocky was released with three of his friends named Ceria, Gunung and Bob in December 2022. The reintroduction was carried out by the Natural Resources Conservation Agency for West Kalimantan (BKSDA), the Bukit Baka Bukit Raya National Park (BBBR) office and a team from International Animal Rescue (IAR) Indonesia.
The rehabilitation process takes considerable time for orangutans as they have so much to learn to be able to survive in the wild independently. Therefore, before their reintroduction, orphaned orangutans generally spend years undergoing rehabilitation.
Rocky was only one year old when he was surrendered by his 'owner', a resident of Teluk Melano village, on 4 October 2012. Very little was known about his circumstances at the time other than that he was being kept in a cage. Rocky was extremely malnourished which, apart from his low body weight, was also evident by his lack of hair, particularly on his completely bald head.
Rocky has been a favourite in our adoption program with his cheeky antics including trying to escape his pre-release island with his friends. He has shown great progress with his forest skills over the years including excellent climbing and foraging skills. After ten years, Rocky has been given the gift of true freedom- a gift he and every other orphaned orangutan deserve.
Rocky's story is one of resilience and hope, showing how much some orangutans can overcome and achieve when given the time and support they need to live a life of freedom once again in the jungle.
We are so grateful to all or our Rocky adopters for supporting his return to the wild. Your adoption has supported him with Jungle School training, food, enrichment, and medical care when needed to ensure that he is safe and thriving in his true jungle home. Rocky is being closely monitored by staff and we'll update you on his jungle progress when the next adoption updates come out in April. Be sure to check out the video footage of Rocky's release.