When humans hunt and kill orangutans, it's often a result of Human-Orangutan Conflict (HOC) over resources such as agricultural crops, oil palm plantations or family gardens. When orangutans eat human crops, they can be viewed as 'pests', a nuisance robbing people of their food. The reason orangutans raid pineapples, coconuts or palm fruit is that their natural food sources are being destroyed by legal and illegal logging and land clearing. They emerge from the forest, looking for food because their forests and hundreds of forest foods are gone.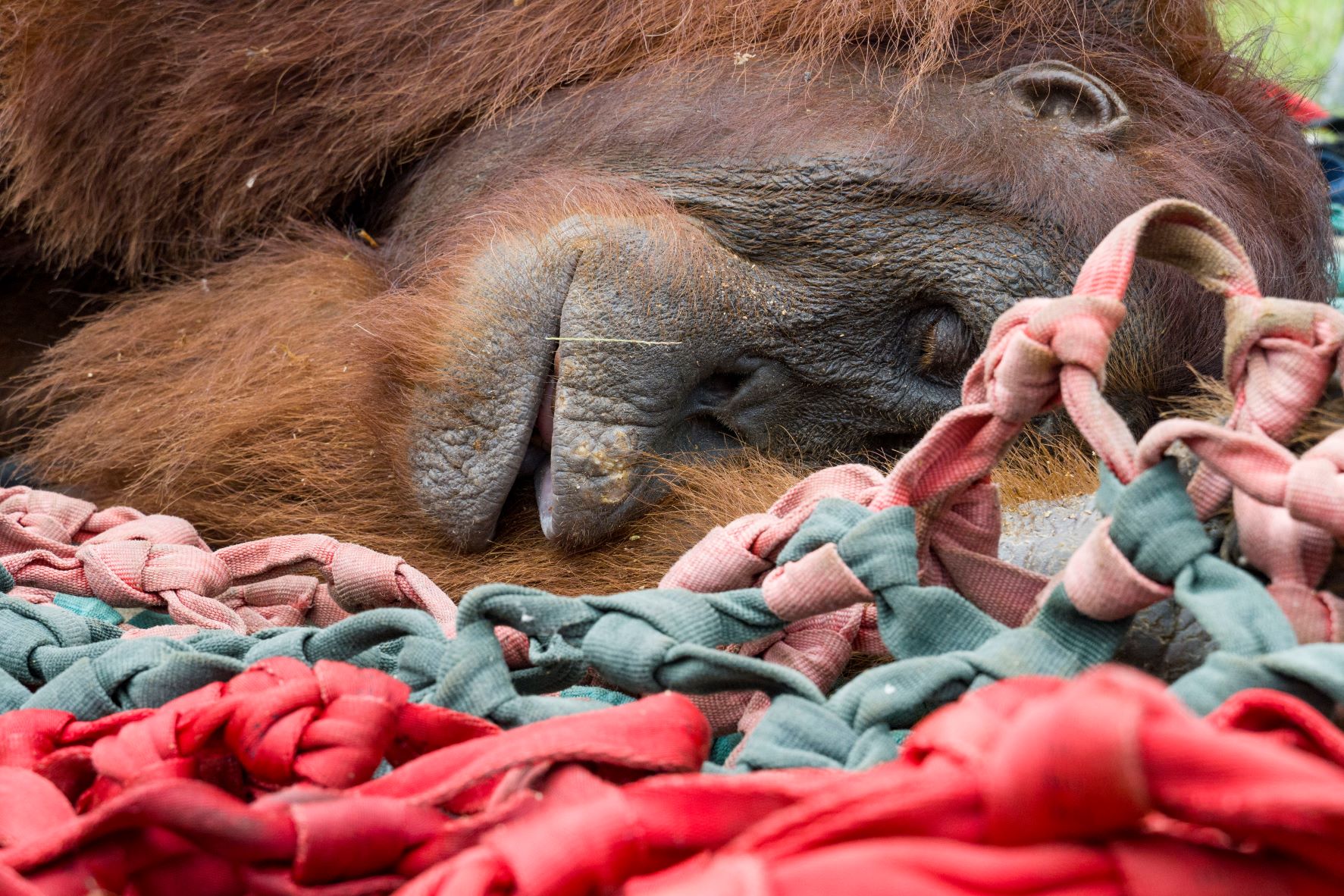 (Above: Kandis, a large male orangutan, who was translocated from a community garden earlier this year)
This issue is not going away any time soon; in fact, illegal activities including deforestation have increased over the past couple of years thanks to COVID-19 lockdowns. In addition, now that borders are back open, poachers have ramped up their activities in the forests and are back selling wildlife, skin and other body parts.
To both protect orangutans and engage communities in orangutan conservation, forest-edge communities must be provided with strategies to deal with HOC events. Our friends at International Animal Rescue (IAR) Indonesia, who we've proudly supported since 2009, established their HOC Response team in 2013 to safeguard orangutans living in fragmented habitats.
This year, these teams have patrolled five key HOC hotspot villages and mitigated conflicts by steering orangutans back to the forest. Sometimes, as a last resort, they need to rescue and translocate an orangutan facing severe threats. One of these orangutans was Kandis, a large male who was persistently found in a community village among gardens and agricultural areas. There was no choice but to move him.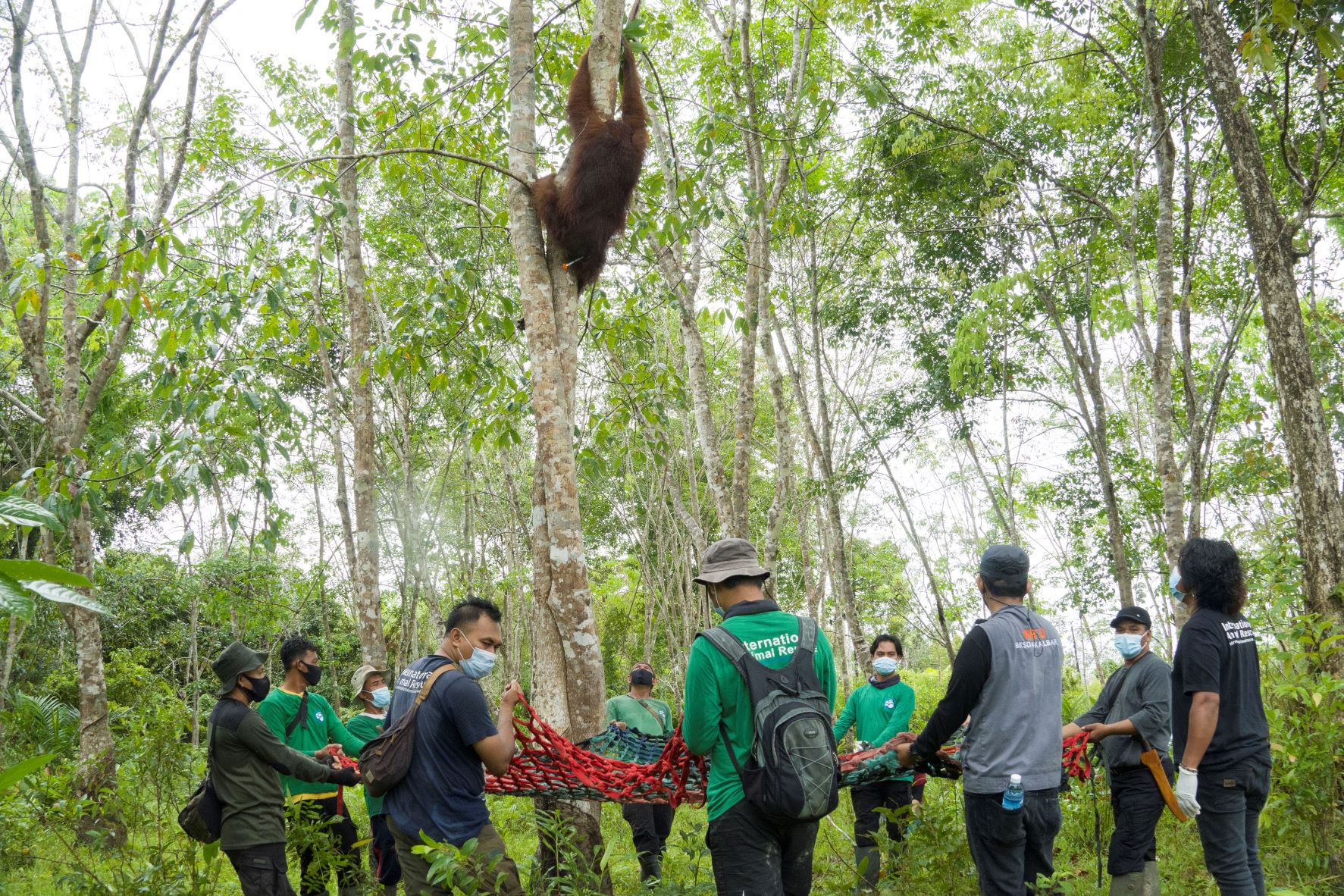 (Above: The translocation team waiting for Kandis to come down the tree into the net below so they can remove him from close proximity with villagers)
Together with the BKSDA (local conservation authority), IAR's Orangutan Protection Unit (OPU), medical team and HOC Community Patrol Team worked with the local community of Tanjungpura village to move Kandis to the safety of a forest far from the village. He weighed more than 60 kilograms and was at least 20 years old - a very large and solid orangutan to have to transport through the forest!
The residents of Tanjungpura first reported his presence earlier this year. The OPU Team had hoped they could simply drive him away from the gardens and help the residents avoid conflict with Kandis. However, the team soon realised that due to local agricultural expansion, the small pocket of forest where a few orangutans still remain is no longer sufficient to sustain Kandis. Over a period of just three weeks, Kandis had raided a total of seventy coconuts. This is a huge loss to the community.
Kandis was moved from a garden to a nearby forest, where IAR has over 45 camera traps, local patrol teams, and biodiversity assistants. They will monitor Kandis for as long as possible to ensure his transition to the new forest is without incident. Mitigating conflict between humans and orangutans is ongoing work, and although this translocation was successful, it is only one of the many conflicts IAR has dealt with this year in West Kalimantan (Borneo).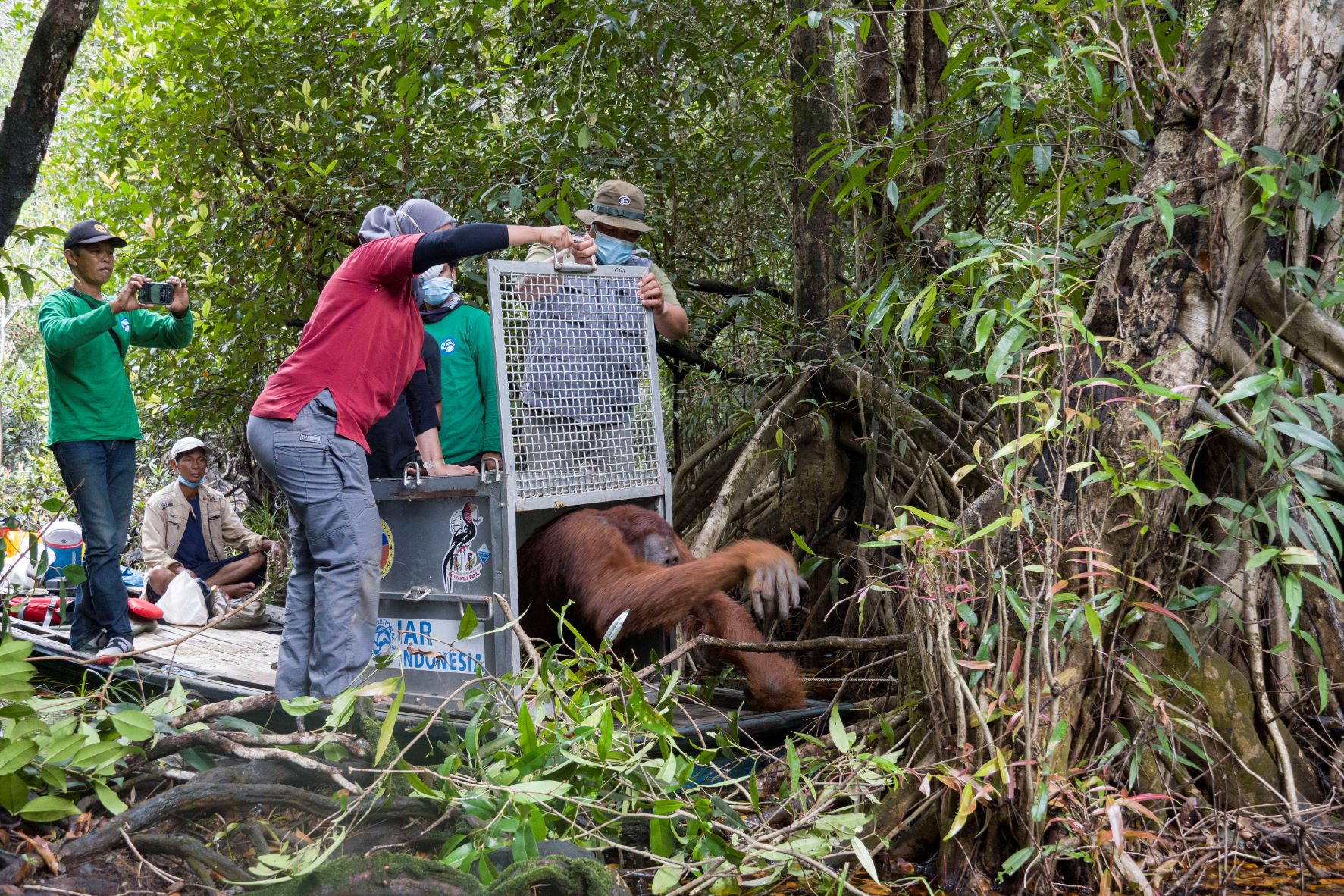 (Above: Kandis leaping free of the transportation cage, back into forest where he will be monitored for a time)
Over just three months this year, IAR's five Community Teams and their mobile OPU Team collectively patrolled for 335 days and responded to 54 reports from local communities, which resulted in mitigation of 68 HOC situations and the rescue or translocation of two orangutans (including Kandis). In just those three months, there was a 518% increase in mitigation events compared to the previous three months.
This sharp increase is related to a higher persistence of orangutans coming back to community gardens after being steered back to the forest. Another reason for this increase is that a single mitigation event can take hours or even days to finalise, especially when orangutans need to be moved away from human contact. Kandis is just one of many orangutans who are at risk of conflict with humans, but for now, he's safe and secure in a forest with sufficient food to sustain him.
To help support this critical work, please visit our donation page.
You can also read more about International Animal Rescue here.
Below you can see Kandis before his translocation and his journey from the village to the forest.