It is with great sadness that we share the tragic news that Gokong has passed away in the jungles of Sumatra.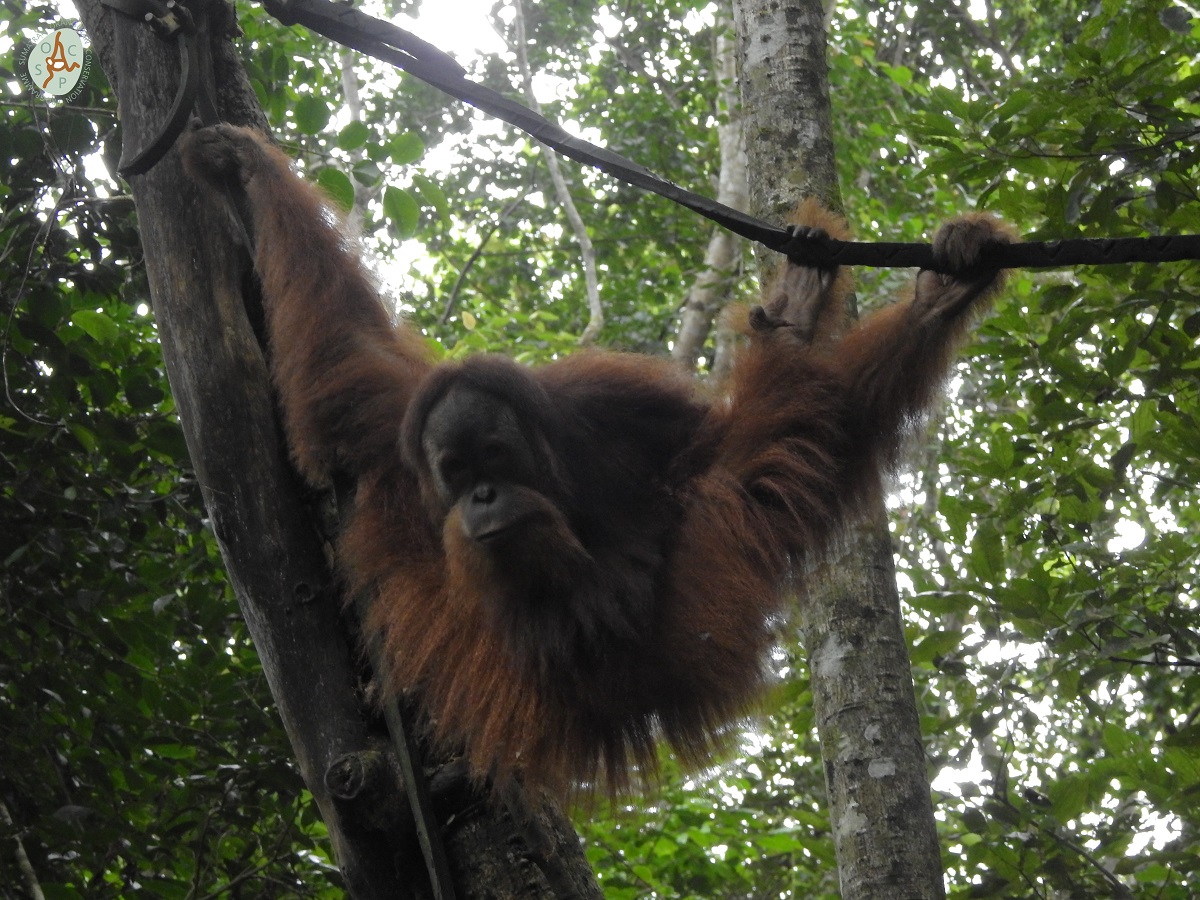 Handsome Gokong in the Jantho jungle in Aceh province, Sumatra
Upon receiving this terrible news, we found some comfort in looking back on Gokong's journey and we wanted to share Gokong's story with you as a way to remember him. When Gokong was first rescued he was nearly bald due to the trauma he'd suffered; however, with a nutritious diet and love and care at the SOCP Orangutan Quarantine and Rehabilitation Centre, he soon developed a striking coat of long, thick hair. Gokong joined our adoption family in 2013 and he immediately captured all our hearts. His crazy hair style and cheeky personality would always bring a smile to his carers in Sumatra and his adopters alike.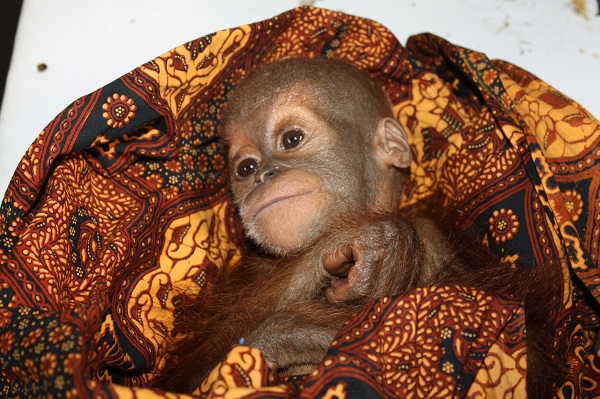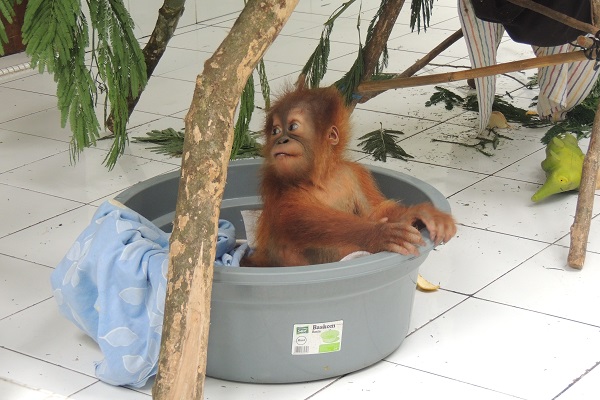 Sweet little Gokong soon after his rescue (left) and playing in the baby nursery (right)
As a youngster, Gokong went from solely drinking milk to learning how to eat solid food. Like many toddlers, Gokong could be quite fussy and didn't like his greens, preferring juicy fruits such as watermelon and pineapple. As he grew, he was able to visit the baby playground, which he loved. Gokong was very adventurous and greatly enjoyed swinging on the ropes and tree branches. Little Gokong was also well known for his adorable pout, especially when his playground time came to an end.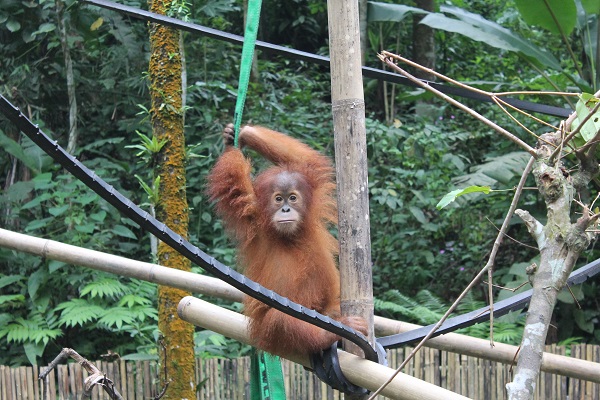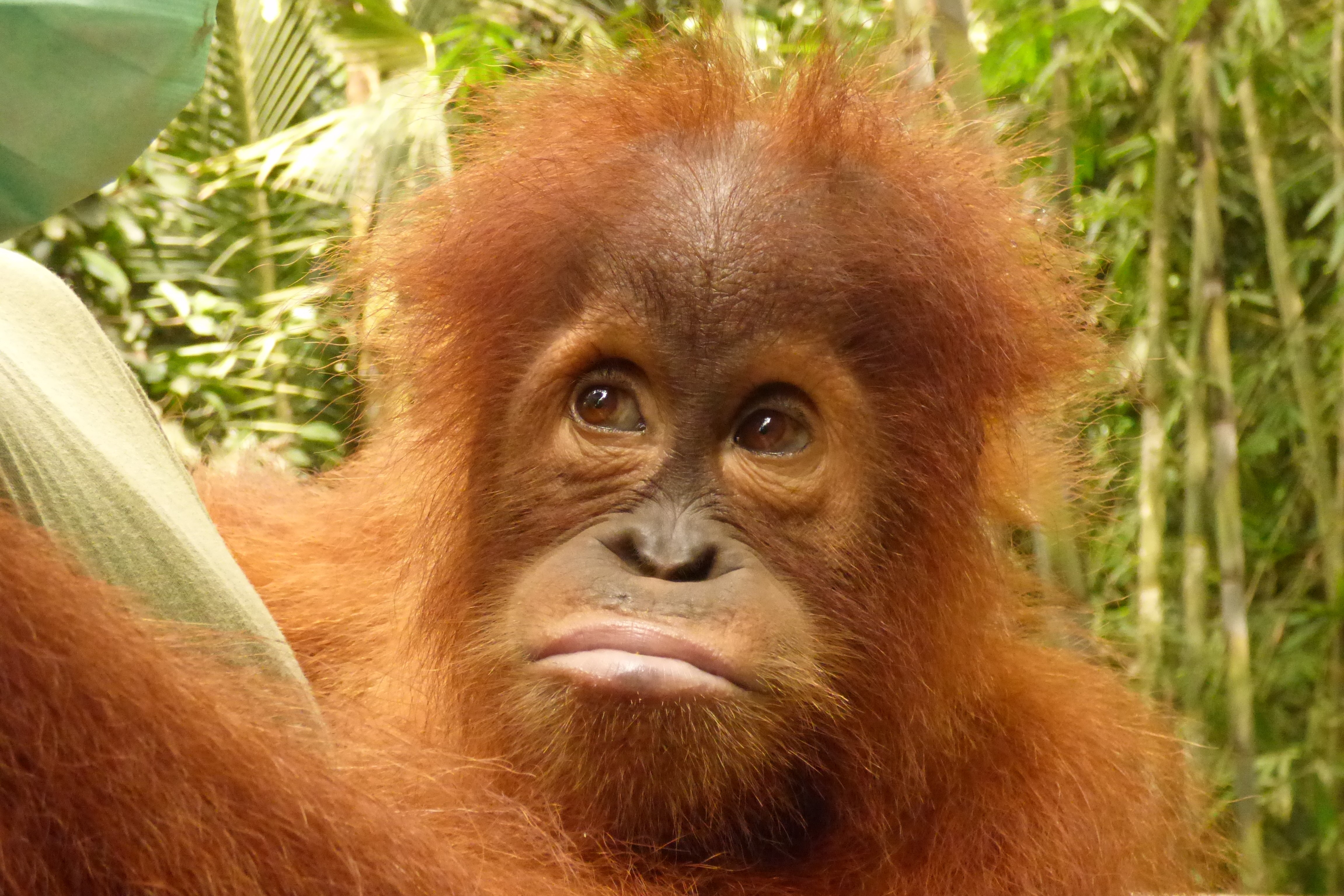 Gokong being adventurous in the outdoor baby playground (left) and giving that pout (right)
As the years went by, Gokong joined Jungle School at the centre and was able to greatly improve his forest skills including climbing, foraging and nest building. Over the last 18 months as he reached adolescence, his facial features changed considerably as he began to develop a longer beard and face, a more pronounced forehead, and the beginnings of cheek pads.
Due to Gokong's strong progress and his age, he was deemed a suitable candidate to be moved to the Jantho release site in 2020. The plan was for Gokong to join the Advanced Forest School, which is much larger than the Forest School at the rehabilitation centre, and is especially suited for older orangutans like Gokong. This larger area is excellent for increasing the physical fitness of the orangutans and provides a huge increase in mental stimulation. It was also hoped that Gokong would change his focus from people to other orangutans in this new and stimulating environment and develop his forest skills by observing and copying other more experienced orangutans.
Unfortunately, all transfers to this release site were put on hold in 2020 due to the COVID-19 pandemic, to protect orangutans from close contact with humans. Finally, in 2021, Gokong made the long-awaited journey to the Jantho Reintroduction site in Aceh Province with three other orangutans. Upon arrival, Gokong and his three travel mates were put into the adaptation cages for a period of 14 days for observation and allowing time for adjustment to their new surroundings. Once the Jantho team were satisfied Gokong was healthy and adjusting well to the new environment he was moved into the habituation cage in the forest and was able to begin his time in the advanced environment of the Jantho Forest School.
As predicted by the staff who know him best, Gokong moved around the Forest School area really fast on his first day. Usually in a new environment like this, an orangutan will move slowly while they observe and study the area; however, the team know Gokong's personality and know that he can be unpredictable at times. The team also thought Gokong could have been reacting to other male orangutans in the area who had passed by Jantho camp recently.
Over time, Gokong began spending extended periods of time in the forest. Gokong and the other newly released orangutans were still being closely monitored by staff at the release site. Recently, Gokong eluded the trackers in the forest. This is a common occurrence during the rehabilitation process and is a positive sign of growing independence. Gokong had done this before, and his trackers were confident they would find him soon enough as they had done before. However, tragically, after a few days of searching for him, they came across Gokong's lifeless body. He had been attacked by bees and suffered an allergic reaction to the many stings. The team at Jantho and all staff that had cared for Gokong over the years are devastated by this loss, especially since Gokong was on the cusp of real jungle freedom. The team is taking solace in the fact that Gokong spent his last few months in the beautiful forest of Jantho and he experienced what it was like to be in his true forest home, even though it was cut tragically short.
Stories like Gokong's death are heart-breaking. His updates over the years have brought us such joy as he grew up before our eyes and developed his jungle skills. His cheeky nature made everyone smile and he will be greatly missed by his dedicated carers at SOCP, the TOP team and his loyal adopters. We want to take this opportunity to sincerely thank Gokong's adopters over the years and making his journey to forest freedom a reality. Gokong's story highlights how hard the rehabilitation journey can be and sadly we do not always have the happy ending that we long for. However, we will never give up in trying to give every orangutan in our care the chance to live in the jungles where they belong.
Nest in peace Gokong, you will always hold a place in our hearts.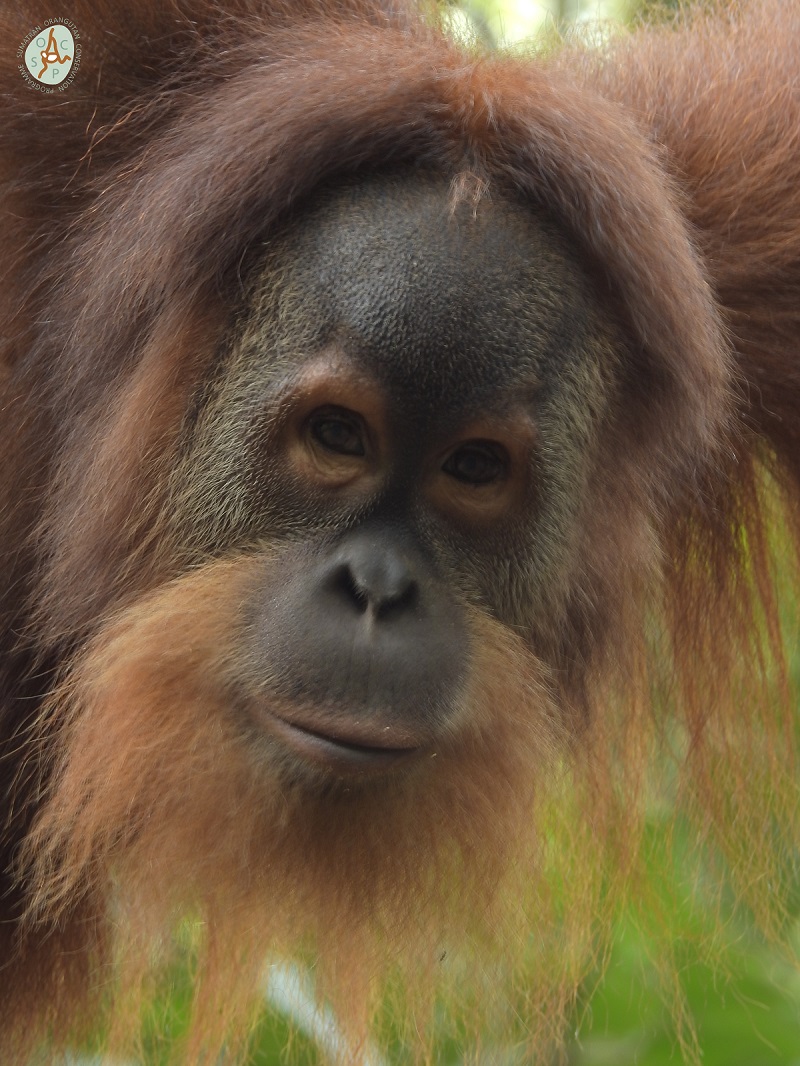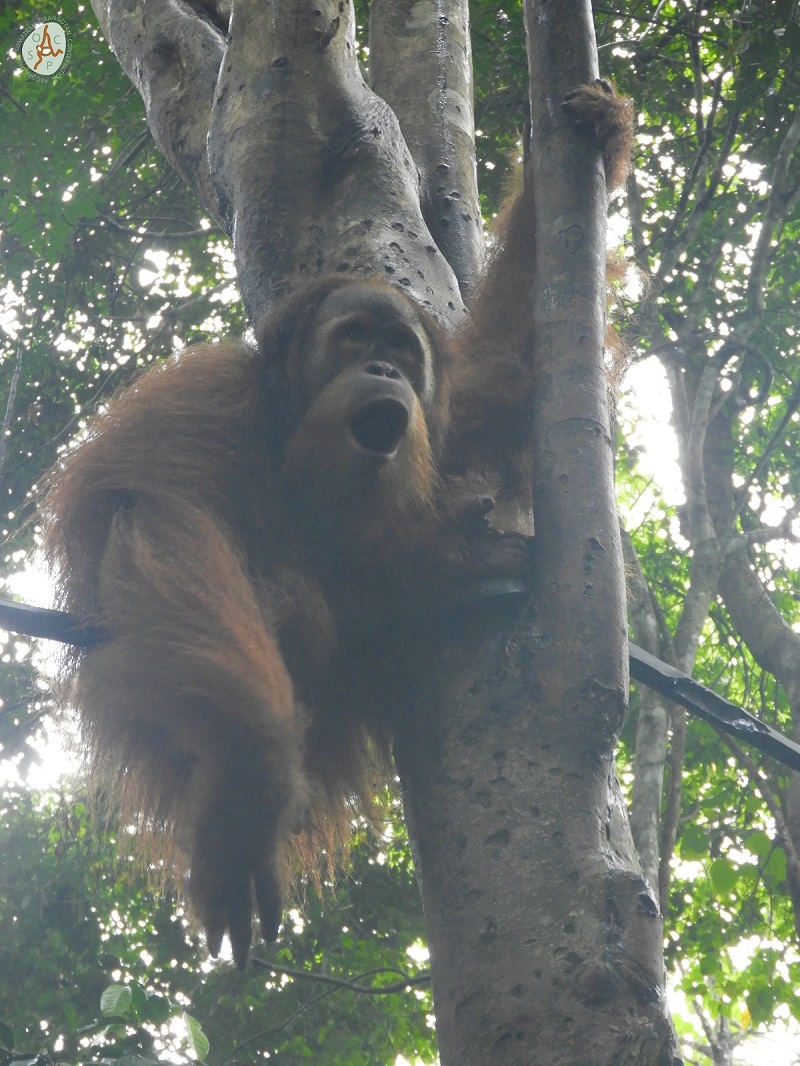 Handsome Gokong free in the jungle of Sumatra