To honour the memory of their only child who passed away in 2020 from COVID-19 at the age of 49, the parents of Robert (Randy) Magnanti, Thomas and Beverly, have established a special fund in his name to support the ongoing conservation efforts of The Orangutan Project.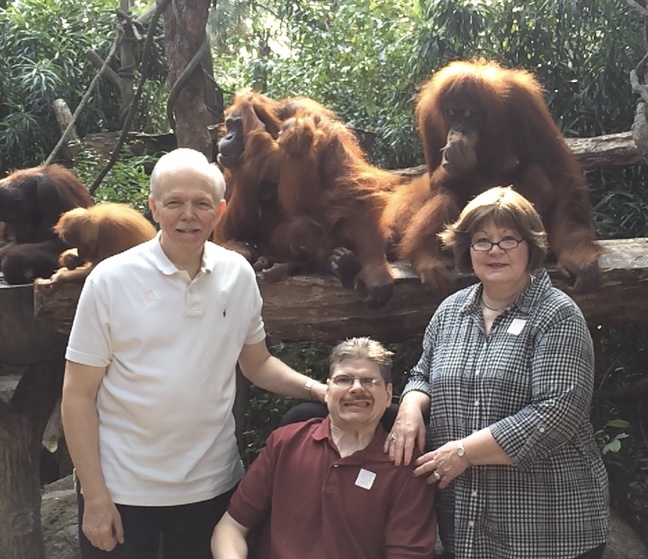 After suffering a stroke at the age of two Randy was left multi-handicapped, but this never dimmed his spirit or his smile. He travelled the world with his parents, participated in Cub Scouts, attended school in both Holliston and Westwood Massachusetts and in his senior year met the love of his life, Mary Sacco. For many years Randy worked part-time for Southborough Medical/Reliant Medical Group and was very proud of his job and his tenure with the company.
Beside his love of music (especially Elvis), cars, movies and watching sports, Randy was particularly fond of orangutans.
"Randy loved going to the zoo when we lived in Singapore," says his mother Beverly. "He had numerous close encounters with the orangutans there and was very pleased when one reached out and patted him on the head."
"Growing up he had a collection of 35 toy orangutans that brought him endless joy. Each was named and photographed and his special favourites had loving or mischievous personalities."
In a touching tribute to his love for orangutans, Randy was cremated alongside his three favourite orangutan toys - Red, RJ and Shorty. "I couldn't bear to think of him without them," says Beverly.
Supporting orphaned orangutans was a cause that Randy was very passionate about.
"For many years we printed out photos of orangutans that needed support and Randy would study them to see who he would support that year. It became a wonderful Christmas tradition for our family."
To continue the tradition in Randy's honour, the Magnanti's decided to establish the Randy Magnanti Memorial Fund in support of The Orangutan Project.
"We came across Leif and The Orangtuan Project after my husband's relatives made donations in Randy's memory," says Beverly. "After we learned about the need for donations to establish a new rescue centre, we decided we wanted to make a meaningful contribution in Randy's name."
"Through this fund we intend to carry on our annual tradition of supporting orangutan conservation. It's what Randy would have wanted."