Animal Voices is Western Canada's only program dedicated solely to animal advocacy and compassionate living. Listen to Leif's interview.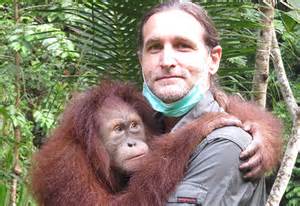 Our feature interview is with Leif Cocks, founder of the Australian-based organization The Orangutan Project, which was started in 1998. The Orangutan Project was formed with a key mission: to ensure that endangered wild orangutan species would be protected against extinction, and would continue to live in secure populations for generations to come.
Today, The Orangutan Project is a successful not-for-profit organization that supports a wide range of critical projects that address the holistic problem facing remaining fragmented orangutan populations – including fighting deforestation and habitat loss at the highest level.
In this interview, Leif talks to us about his 30 year connection with these stunning beings and their looming extinction in Indonesia. He also addresses the problems with palm oil and whether or not there is such a thing as "sustainable" palm oil that isn't wiping out orangutan habitats.
On August 19th, Leif will host a gala fundraiser in Langley to benefit The Orangutan Project.
Leif's academic qualifications include a Masters of Science studying orangutans. He is also the author of the book "Orangutans and their Battle for Survival".
You can listen to the podcast of the interview here, Leif's interview starts 34mins and 25 seconds in.