Date of birth:
1978-02-22
Place of birth:
New Zealand
Education History:
Science degree from the University of Waikato, New Zealand Certificate in Captive Wild Animal Management
Organisation you work for:
Sumatran Ranger Project / Raw Wildlife Encounters / Auckland Zoo
Position title:
Founder/Director of Sumatran Ranger Project / Senior Adventure Leader at Raw Wildlife Encounters / Team Leader Primates at Auckland Zoo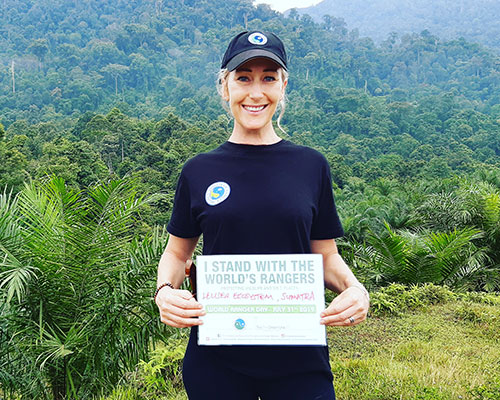 How did you get into the work you do presently?
I volunteered at a zoo whilst at university and was fortunate to walk into my dream job as a trainee primate keeper. I studied the management of zoo animals as well as extra animal behaviour papers while working as a trainee keeper and worked with a wide variety of taxa, mostly primates and carnivores. I was seconded into team leader of primates in 2006. My passion has always been great apes, in particular orangutans and I have worked with them at Auckland Zoo and on occasion at the Sumatran Orangutan Conservation Programme (SOCP) in North Sumatra. Since 2013 I have led small group eco adventures with Raw Wildlife Encounters in North Sumatra. Through this work I developed an understanding of the human-wildlife conflict in forest edge communities and saw how they needed support to raise their standard of living, reduce their environmental impact and reduce their reliance on illegal/harmful activities like poaching. I founded the Sumatran Ranger Project to help address these issues while providing protection for wildlife outside the government protected Gunung Leuser National Park, where significant human-wildlife conflict occurs. I wanted to help provide long term, meaningful employment to passionate people who lacked the opportunity to put their skills and knowledge to use in a paid capacity.
Describe the main aspects of your work:
For the Sumatran Ranger Project, I manage the rangers, write (endless) grants to secure funding for the rangers' salaries and for community support and conservation work and present to various groups. I also visit with the communities, helping to assess where help would be most effective. I recently set up a charitable trust to help provide further support to both SRP and forest edge communities in Sumatra.
What do you like best about your job?
I love that I've combined my three passions – wildlife, travelling and conservation – into my dream career. I love that I am seeing my hard work come to fruition when my rangers send me images of them in the field, destroying snares, responding to wildlife conflict events and assisting communities with alternative livelihoods and practical support. I love that I am connecting with and inspiring thousands of people in a wide variety of contexts, both within Auckland Zoo and in the wild. Seeing my guests witness their first orangutan in the forest or showing them how they have directly contributed to supporting communities is a privilege and one I will never tire of. And of course, I love that I have a relationship with Auckland Zoo's orangutans that has spanned nearly half my life.