Location: West Kalimantan, Borneo, Indonesia
The long-term goal of Yayasan International Animal Rescue Indonesia (YIARI) is to establish and maintain self-sustaining orangutan populations in the wild, by taking a holistic approach to protecting wild populations and their habitats.
In 2022, YIARI established a number of female-led forest fire prevention and firefighting teams in key areas in West Kalimantan. Collectively, they are called 'The Power of Mama'.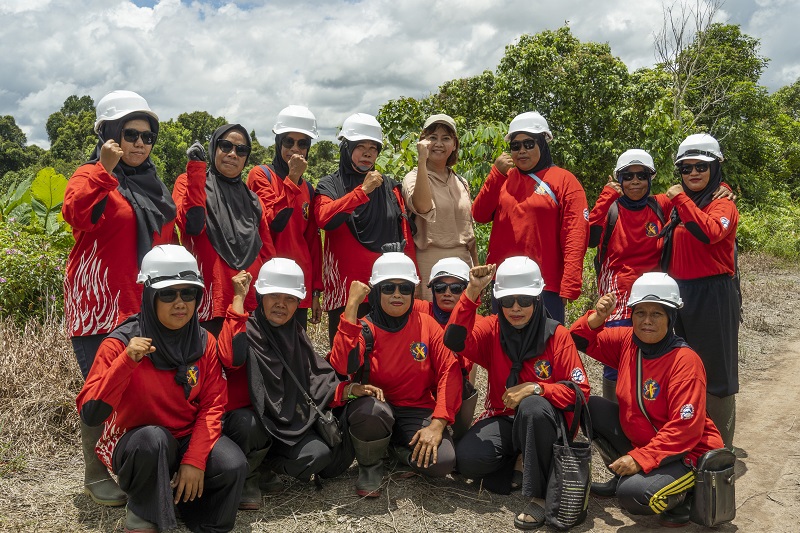 The Orangutan Project provided key funding so this project could be launched. As champions of wildlife conservation, role models, educators and beacons of hope, the female-led teams will not only transform attitudes towards the role of women, but they will also highlight the capabilities and success of females in traditionally male roles.
Outcomes of this project are to:
restore peatlands to their natural waterlogged condition, reducing Karhutla (forest fire) events;
increase the health and wellbeing of forest-edge communities;
safeguard orangutans by eliminating fire risks in vulnerable forests;
protect wildlife, empower women, and uplift forest-edge communities;
increase forest-edge communities' awareness about the protection status of orangutans and the importance of their conservation and protection of forest habitats; and
increase the education level of local communities, especially of youth and women, to promote critical thinking, additional development opportunities, and environmental consciousness.