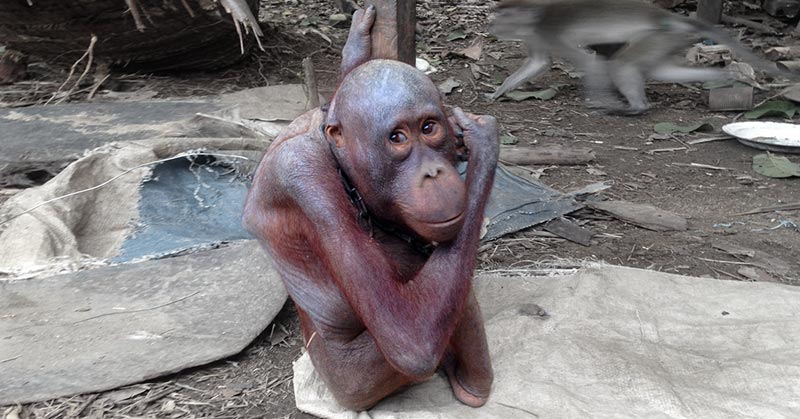 One of the most recent disturbing rescues for The Orangutan Project funded IAR Rescue team was that of a male orangutan named Bujing. The rescue team travelled for over eight hours to rescue Bujing. And thank goodness they did. Bujing was chained to the side of the house. He was very thin and had no hair due to malnutrition. According to Bujing's owners, they purchased him for 50 USD when he was a baby. When he was young they would regularly bathe him and give him milk. However, as he grew older they kept him chained up to stop him entering the neighbour's property where he would eat their food.
Bujing also had two deep wounds on his back which the owners said they discovered after he was recaptured from an escape attempt two months earlier. The owners willingly surrendered Bujing to the IAR Rescue team. Bujing travelled as a passenger on the boat with the team. He was very calm and well behaved and wrapped himself in a blanket to keep warm.
Bujing had medical treatment and underwent quarantine at the IAR Rescue centre. He recently came out of quarantine and is now getting used to the company of other orangutans so that he can learn some social skills. Staff are trying to find the right group for him so he can commence forest visits. Bujing is much older than the rest of the forest school orangutans but he is much smaller due to chronic malnutrition.
This is only one of many incidents. It is heartbreaking to read stories and see photos of what so many orangutans are forced to endure.
Donations from supporters enable this rescue work to continue. These orangutans desperately need your support. The donation you make of $150 is enough to fund an orangutan rescure.
The Orangutan Project funds the IAR Rescue team and Rescue centre.